Another 100 Greatest Films
(of the 20th Century)
Summaries - Part 4
(Links to Comprehensive Film Reviews)

Selection Criteria
I
I Am a Fugitive From a Chain Gang (1932)
Starring: Paul Muni, Glenda Farrell, Helen Vinson, Edward Ellis, Hale Hamilton
Director: Mervyn LeRoy
A graphic portrayal of post-WWI chain gang conditions - in the first of Warner Bros.' social conscience films. A discontented veteran-drifter (Muni) finds unemployment after the war. He is wrongly convicted after a diner robbery, and imprisoned in a Southern (state not specified) prison farm at hard labor for ten years under inhumane conditions. He escapes in a thrilling sequence, assumes an alias in Chicago, and becomes a well-respected bridge construction engineer, until his blackmailing, gold-digging landlady (Farrell) forces him into marriage. Based upon the real-life story of Robert E. Burns and his best-selling autobiographical book. Academy Award Nominations: 3, including Best Actor--Paul Muni, Best Sound, Best Picture.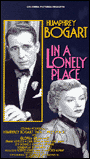 In a Lonely Place (1950)
Starring: Humphrey Bogart, Gloria Grahame
Director: Nicholas Ray
A mature, bleak and dramatic 1950 film noir from maverick director Nicholas Ray - from a complex script by Andrew Solt. World-weary, acerbic, self-destructive, hot-tempered, depression-plagued Hollywood screenwriter and laconic anti-hero Dixon Steele (Bogart), while planning to adapt a trashy best-selling romance novel, becomes the prime suspect in a murder case of a night-club hat-check girl Mildred Atkinson (Martha Stewart). After he invites her to his apartment to provide the synopsis for the book that he hasn't read, she is found brutally murdered the next morning. His romantic relationship with a lovely neighbor/would-be starlet Laurel Gray (Grahame) in the housing complex grows stronger when she confirms his alibi, but ultimately is put to the test as she becomes increasingly suspicious of his disintegrating self. No Academy Award Nominations.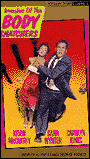 Invasion of the Body Snatchers (1956)
Starring: Kevin McCarthy, Dana Wynter
Director: Don Siegel
An allegorical, intensely paranoid, chilling science-fiction parable of alien possession, based on Collier's Magazine's serialized story The Body Snatchers by Jack Finney - one of the greatest low-budget 50's films that can be interpreted as philosophical commentary upon the spread of McCarthyism or Communism. Set in the idyllic small town of Santa Mira, California and told in flashback. Physician Dr. Miles Bennell (McCarthy) begins to become paranoid and suspicious when his patients report that their loved ones, friends, and relatives are not themselves but emotionless shells, replicas, or imposters. Actually, the town is being surreptitiously invaded by strange, alien plant forms called 'pods,' that take over or replicate the likenesses, personalities and identities of human beings while they sleep. Miles and old girlfriend (now recently divorced) Becky Driscoll (Wynter) fight to stay awake and battle the changes that may overtake them. When they flee to escape a similar fate and are chased into an abandoned mine shaft, Becky momentarily falls asleep - and her unresponsive kiss is revelatory. As the last 'human' being, he hysterically screams warnings while running down the middle of a highway, reaching the refuge of a hospital in San Francisco. No Academy Award nominations.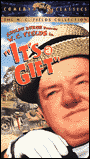 It's a Gift (1934) (tie)
Starring: W. C. Fields, Jean Rouveral, Kathleen Howard, Charles Sellon, Tommy Bupp
Director: Norman Z. McLeod
One of W. C. Fields' earlier comic masterpieces - starring Fields as a victim of small-town family life in a series of vignettes. Harold Bissonette - pronounced 'Bee-soh-nay' - (Fields) endures hardships at home in Wappingers Falls, New York with his shrewish, status-conscious wife (Howard), and selfish children - daughter Mildred (Rouveral) and young son Norman (Bupp). To escape his travails, he dreams of a California orange ranch he has purchased with an inheritance. At work, as the fumbling proprietor of a grocery store, where blind and hard-of-hearing Mr. Muckle (Sellon) crashes through his front door, he anxiously helps customers. Attempting to sleep on his outer porch, he is tormented by a noisy milkman, a grape-throwing baby (Baby Dunk) on a higher level, an annoying insurance salesman looking for Carl LaFong, a rolling cocoanut, and a broken chain on his porch swing. Finally, the family packs up and travels westward, picnicking on (and littering) the lawn of a private estate along the way, and finding that the California orange grove is a ramshackle house on an unproductive lot. The film ends with Harold's dream of the 'good life' intact. No Academy Award nominations.
J

The Jazz Singer (1927)
Starring: Al Jolson, May McAvoy, Warner Oland, Eugenie Besserer
Director: Alan Crosland
Legendary, revolutionary film, known as the first sound motion picture - literally, the first feature film to utilize Synchronous Sound. In actuality, it was a part-talkie with only a few musical sequences and one ad-libbed, conversational sequence. With Al Jolson in his film debut. Precipitating a split with his cantor father (Oland) and mother (Besserer), young Jewish son Jakie Rabinowitz (Jolson) leaves his home, takes a new name - Jack Robin - and enters show business as a Broadway singer of popular/secular music. When his father falls ill on Yom Kippur, Jakie takes his father's place in the synagogue and performs the Kol Nidre. Contains the classic line: "You ain't heard nothin' yet!" Tunes include "My Mammy," "Dirty Hands, Dirty Face," "Toot, Toot, Tootsie Goodbye" and "Blue Skies." Academy Award Nominations: 2, including Best Adapted Writing, Best Engineering Effects. Special Award to "Warner Bros., for producing...the pioneer outstanding talking picture, which has revolutionized the industry."

Jezebel (1938)
Starring: Bette Davis, Henry Fonda, Fay Bainter, Margaret Lindsay
Director: William Wyler
Set in the mid-1800s New Orleans, a stylish, classic romantic melodrama about a headstrong, flamboyant Southern belle. To arouse the jealousy of her beau Preston Dillard (Fonda), willful, spiteful, tempestuous Julie Marsden (Davis) thoughtlessly and selfishly insists on wearing a scarlet red gown (rather than a virginal white one customarily worn by unmarried women) to the Olympus Ball - a major social function, defying social customs. She disgraces herself and is jilted by her embarrassed fiancee, who returns to Julie's plantation a year later. Without knowing that her estranged man has brought his new Yankee wife Amy (Lindsay), she surrenders to him. In further scheming, she rebounds and marries Southern gentleman Buck Cantrell (Brent), who dies in a duel unintentionally caused by her. Later, when Pres contracts deadly 'yellow jack' (yellow fever), she heroically redeems and atones for her transgressions by pleading with Amy to nurse his illness during the epidemic. In the final scene, she rides off with him in a wagon to certain death. Academy Award Nominations: 5, including Best Picture, Best Cinematography, Best Score. Academy Awards: 2, including Best Actress--Bette Davis, Best Supporting Actress--Fay Bainter.
K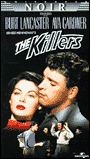 The Killers (1946)
Starring: Burt Lancaster, Ava Gardner, Edmond O'Brien, Sam Levene, Albert Dekker, Charles McGraw, William Conrad
Director: Robert Siodmak
A classic, definitive film noir, from a short story by Ernest Hemingway, told in eleven taut flashbacks after a bravura opening murder sequence. Two hit men Al (McGraw) and Max (Conrad) enter a greasy-spoon diner in Brentwood New Jersey, asking the manager about Ole 'Swede' Andersen (Lancaster, in his film debut) - a gas station attendant. The doomed 'Swede' (an ex-boxer), who has been hiding in town under an alias for six years, is warned in a nearby boardinghouse. Indifferent, he expects their arrival and calmly, passively awaits their deadly approach. Insurance investigator Jim Reardon (O'Brien) pieces together and unravels the plot and reconstructs the life of the victim through interviews and detective work. He discovers a complex tale of crime and treacherous betrayal - all revolving around a beautifully-glamorous, mysterious, double-crossing femme fatale Kitty Collins (Gardner) - who sings "The More I Know of Love." Academy Award Nominations: 4, including Best Director, Best Screenplay, Best Dramatic Score, Best Film Editing.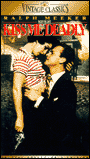 Kiss Me Deadly (1955)
Starring: Ralph Meeker, Albert Dekker, Maxine Cooper, Gaby Rodgers, Cloris Leachman
Director: Robert Aldrich
A paranoid, suspenseful, noirish, melodramatic crime film brimming with apocalyptic, Cold War paranoia. Based on Mickey Spillane's pulp fiction novel. The nihilistic film opens on a dark night when flashy, sleazy, hard-hitting private eye Mike Hammer (Meeker) picks up an almost-naked, barefoot, trenchcoat-wearing hitchhiker Christina (Leachman), who is panting heavily and running down the highway. Villainous thugs force them off the road and gruesomely torture the mysterious girl to death (semi off-screen) as the detective lies semi-conscious. During his own brutal, pursuit of the criminals, recalling her haunting words "Remember me," Hammer - with the help of his limber secretary Velda (Cooper) who frames men for infidelity - pursues the trail to a strange young lady named Lily (Rodgers), the key to an atomic, 'glowing' box containing the Great Whatsit, and a sinister conspirator Dr. Soberin (Dekker). In the controversial, fiery melt-down climax at Soberin's beach hideout, Lily greedily opens the Pandora's Box, releasing the deadly secret and incinerating herself, as a wounded Hammer frees the kidnapped Velda and stumbles with her into the cooling ocean waters. No Academy Award nominations.
L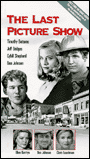 The Last Picture Show (1971)
Starring: Timothy Bottoms, Jeff Bridges, Cloris Leachman, Cybill Shepherd, Ben Johnson, Ellen Burstyn, Clu Gulager
Director: Peter Bogdanovich
Based on the novel by Larry McMurtry. A bleak, black and white cinematic modern-day classic, set in the small, northwestern (fictional) Texas town of Anarene in the period between the end of World War II and the Korean War in the early 50s. A poignant, coming-of-age tale of the loss of innocence for teenagers in the slowly-dying town, symbolized by the closing of the local picture palace, owned by Sam the Lion (Johnson). The story is about a pair of HS football players, seniors Sonny Crawford (Bottoms) - who has an affair with the lonely football-basketball coach's wife Ruth Popper (Leachman), and Duane Jackson (Bridges) - who dates the sexy, self-centered, spoiled student beauty Jacy Farrow (Shepherd in her film debut) and enlists after being dumped. Other desperate townsfolk are also having affairs - Jacy's loose mother Lois (Burstyn) with oilfield worker Abilene (Gulager). Academy Award Nominations: 8, including Best Picture, Best Director, Best Adapted Screenplay, Best Supporting Actor--Jeff Bridges, Best Supporting Actress--Ellen Burstyn, Best Cinematography. Academy Awards: 2, including Best Supporting Actor--Ben Johnson, Best Supporting Actress--Cloris Leachman.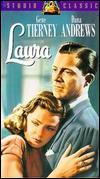 Laura (1944)
Starring: Gene Tierney, Dana Andrews, Clifton Webb, Vincent Price, Judith Anderson
Director: Otto Preminger
Based on the novel by Vera Caspary. A great murder-mystery film noir, about the supposed murder of the beautiful title heroine, ad executive femme fatale Laura Hunt (Tierney), with a shotgun blast to the face. The film opens with voice-over narration by acidic, cynical newspaper columnist Waldo Lydecker (Webb), Laura's patron/mentor: "I shall never forget the weekend Laura died..." In the course of his investigation, police detective/necrophiliac Mark McPherson (Andrews) obsessively falls in love with the dead woman - through her painted portrait. Suspects in the murder include ne'er-do-well Kentuckian playboy Shelby Carpenter (Price), Lydecker, Laura's middle-aged aunt Anne Treadwell (Anderson) - and Laura herself! Academy Award Nominations: 5, including Best Supporting Actor--Clifton Webb, Best Director, Best Screenplay, Best B/W Interior Decoration. Academy Awards: 1, Best B/W Cinematography.

Leave Her to Heaven (1945)
Starring: Gene Tierney, Cornel Wilde, Darryl Hickman, Jeanne Crain, Vincent Price
Director: John M. Stahl
Based on the best-selling novel by Ben Ames Williams. This unsettling psychological noir thriller and lush Technicolored melodrama from director John M. Stahl highlighted a menacing, father-fixated, unstable, and deranged, darkly alluring femme fatale named Ellen Berent (Tierney). The 'wicked' woman was neurotically-possessive and psycho-insanely-jealous. Vincent Price portrayed her vengeful, jilted fiancee/ex-lover Russell Quinton, a newly-elected Boston-area district attorney. She vowed to her deceived novelist husband Richard Harland (Wilde), who resembled her father, that she wanted him all to herself: "I'll never let you go, never, never," stopping at nothing to make the man she loved her exclusive possession. The most dramatic scene was the drowning murder of her paraplegic brother-in-law Danny (Hickman) in a Maine lake as she calmly watched from a nearby rowboat. When he became exhausted and distressed in the water from severe stomach cramps (after eating a large lunch), Ellen passively watched as he called out: "Help me!" He submerged twice and then disappeared under the surface. She pretended to assist him by diving in, but it was obviously too late. Later, Ellen deliberately fell down a flight of stairs to cause a miscarriage and kill her unborn child. And finally, she committed suicide with poison, implicating her adoptive Ruth Berent (Crain) in the death (although Ruth was found innocent) and sending Richard to jail for two years for withholding evidence. Academy Award Nominations: 4, including Best Actress-Gene Tierney, Best Color Art Direction/Interior Decoration, Best Sound Recording. Academy Awards: 1, Best Color Cinematography.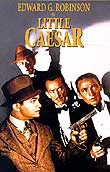 Little Caesar (1930)
Starring: Edward G. Robinson, Glenda Farrell, Douglas Fairbanks, Jr., Ralph Ince, Thomas Jackson
Director: Mervyn LeRoy
A landmark, classic gangster/crime film - an adaptation of W. R. Burnett's novel about the rise and fall of an ambitious mobster in the underworld. Small-time hood Caesar Enrico "Rico" Bandello (Robinson), ugly, viciously cruel, and ruthless - is modeled after 1920s gangster Al Capone. After a night-time robbery of a gas station, Rico moves to the city to advance from "just another mug" to being a big-shot - with his nightclub dancer friend Joe Massara (Fairbanks, Jr.). Joe's girlfriend Olga Strassoff (Farrell) pressures him to turn on his gangster pal. Rico thwarts other rival gang leaders, challenges crime boss Pete Montana (Ince), and opposes efforts of Sgt. Flaherty (Jackson), but meets his fate behind a billboard sign, crying out: "Mother of Mercy, is this the end of Rico?" Academy Award Nominations: 1, Best Adapted Writing.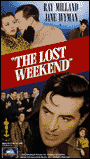 The Lost Weekend (1945)
Starring: Ray Milland, Jane Wyman, Phillip Terry, Howard Da Silva
Director: Billy Wilder
Based on Charles Jackson's 1944 novel by co-screenwriters Charles Brackett and Billy Wilder and filmed in NYC. A classic, melodramatic, realistically-grim and uncompromising "social-problem" film of the 1940s, about the controversial subject of alcoholism, told partially in flashback. Rather than join his brother Wick (Terry) on a weekend outing to the country, talented New York aspiring novel writer Don Birnam (Milland) - a chronic alcoholic with writer's block - spends a 'lost weekend' on a wild, self-destructive drinking binge. Eluding his persistently supportive girlfriend Helen St. James (Wyman), he desperately trudges down Third Avenue on Yom Kippur attempting to find an open pawnshop to hock his own typewriter for another drink. In Bellevue Hospital's alcohol detoxification ward, he awakens to shrieking inmates suffering the DT's, and in his apartment experiences hallucinations of a mouse attacked by a bat. He narrowly avoids committing suicide in the 'optimistic' ending. Academy Award Nominations: 7, including Best Film Editing, Best B/W Cinematography, Best Dramatic Score. Academy Awards: 4, including Best Picture, Best Director, Best Actor--Ray Milland, Best Adapted Screenplay.