100 Greatest Films
(of the 20th Century)

Summaries - Part 3
(Links to Comprehensive Film Reviews)

Selection Criteria
D (continued)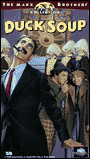 Duck Soup (1933)
Starring: Groucho Marx, Chico Marx, Harpo Marx, Margaret Dumont, Louis Calhern
Director: Leo McCarey

Packed with gags and zany humor, this 1933 comedy is one of the Marx Brothers' funniest, most surreal, and most beloved works.
Classic, short, zany, gag-studded, much-loved Marx Brothers political satire/musical about the fictitious state of Freedonia, with total irreverence toward patriotism, religion, legal justice, and diplomacy. Groucho plays Rufus T. Firefly, the incompetent king of Freedonia (with Chico and Harpo as his incompetent spies) who woos the dowager millionairess Mrs. Teasdale (Dumont). Easily offended, he wages war on the neighboring country of Sylvania because of a slight insult. One of the Marx Brothers' funniest, most surreal, anarchic films with the famous battle scene at its finale, and the classic pantomime mirror scene.
E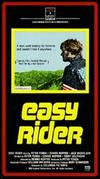 Easy Rider (1969)
Starring: Peter Fonda, Dennis Hopper, Jack Nicholson
Director: Dennis Hopper

In Dennis Hopper's generation-defining 1969 classic, he, Jack Nicholson, and Peter Fonda hit the road in search of nirvana.
Widely considered a generation-defining, youth-oriented classic, this film still engrosses those nostalgic for 60's era wanderlust - seeking inspiration for the next road trip. Two motorcyclist biker outlaws (drug-dealers) embark on a coast-to-coast odyssey across America in this landmark counter-culture road drama/travelogue, searching for the 'real' America. In the Southwest, they encounter wide open spaces, hippies in a commune, small-town rednecks and paranoia, drugs, a drunken, jailed lawyer (Nicholson), sex in a New Orleans bordello, a psychedelic trip in a graveyard, and a violent end. This often-imitated but never-duplicated movie defined a generation and has the greatest 60's soundtrack (featuring The Byrds, The Band, Steppenwolf, Jimi Hendrix, The Electric Prunes, and more). The low-budget film, made for $375,000, was directed by young star Dennis Hopper and went on to make multiple millions and change the pop culture landscape forever. Academy Award Nominations: Best Supporting Actor--Jack Nicholson, Best (Original) Story and Screenplay (Fonda, Hopper, Terry Southern).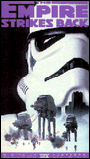 The Empire Strikes Back (1980) (tie)
Starring: Harrison Ford, Carrie Fisher, Mark Hamill, Alec Guinness, Ian McDiarmid, James Earl Jones
Director: Irvin Kershner

The first sequel of George Lucas' much-heralded fantastical space trilogy was considered superior to the original.
One of the most appealing and powerful films in the Star Wars saga - with a superior and more complex plotline (with two parallel storylines), more developed characters (with a burgeoning romance between two sparring leads) and better acting, increasingly-sophisticated special effects, a consistently-even tone of darkness (i.e., Luke's near-death on Hoth, the defeat and retreat of the Rebels, Luke's vision of his own face in Vader's helmet and his aborted Jedi training, the severing of Luke's hand, and Solo's frozen encasement in carbonite), and a compelling and shocking conclusion that ended with an unresolved cliff-hanger (Han's capture by bounty hunters, and the uncertain nature of Luke's heritage). Set three years after the events in the 1977 film and considered by many to be a superior sequel to Episode IV. Famous for Darth Vader's line: "No, I am your father." Academy Award Nominations: 3, including Best Art Direction, Best Score. Academy Awards: 1, Best Sound. Winner of Special Achievement award for Visual Effects.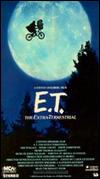 E.T. - The Extra-Terrestrial (1982)
Starring: Dee Wallace Stone, Peter Coyote, Henry Thomas, Drew Barrymore
Director: Steven Spielberg

Spielberg's feel-good 1982 hit stars Drew Barrymore and Henry Thomas as young siblings who form a powerful bond with a cute alien.
A massively popular, widely appealing, feel-good sci-fi fantasy - a cultural phenomenon in the early 80s - about a kind-hearted, cute alien living with a suburban family - one of the most popular and highest-grossing movies of all time. A harmless alien botanist from outer space is left behind and stranded on Earth. The lovable extra-terrestrial is lured by Halloween candy (Reese's Pieces), befriended by a young boy (Thomas), and protected from authoritarian adults and menacing scientists who want to dissect and study the creature. The curious alien eventually finds his way home, with aid from children, to his returning spaceship. Academy Award Nominations: 9, including Best Picture, Best Director, Best Original Screenplay, Best Film Editing, Best Cinematography. Academy Awards: 4, including Best Sound, Best Original Score, Best Sound Effects Editing, Best Visual Effects.
F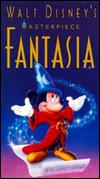 Fantasia (1940)
Starring: Leopold Stokowski, Sarah Thomas
Director: Ben Sharpsteen

Disney's legendary cartoon fantasy, which animates beloved selections of classical music, is still a freewheeling visual delight to this day.
Legendary Disney cartoon fantasy animating much-loved selections of classical music, conducted by Leopold Stokowski and the Philadelphia Orchestra, remains a timeless audio/visual delight. The film was criticized by musical purists, and it failed miserably at the box-office, although it's wonderfully entertaining. The experimental film was revived in the 60s (and was re-released in a new IMAX version in the year 2000) and became a cult classic, especially the Mickey Mouse sequence in Dukas' "Sorcerer's Apprentice." Also includes Bach's "Toccata and Fugue in D Minor," Tchaikovsky's "The Nutcracker Suite," Stravinsky's "The Rite of Spring," Beethoven's "The Pastoral Symphony," Ponchielli's "Dance of the Hours, Mussorgsky's "The Night on Bald Mountain," and Schubert's "Ave Maria." The recipient of two Special Academy Awards.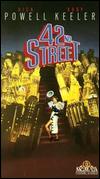 42nd Street (1933)
Starring: Warner Baxter, Ruby Keeler, Dick Powell, Bebe Daniels
Director: Lloyd Bacon

This behind-the-scenes musical tells the story of a flailing producer (Warner Baxter) and a chorus girl (Ruby Keeler) who dreams of fame.
A classic, cliched, behind-the-scenes backstage musical about an ailing, Broadway musical producer (Baxter) and a chorus line dancer's one last-ditch chance at success and stardom. On opening night, the leading lady (Daniels) is suddenly unavailable when she sprains her ankle and an inexperienced, untested chorus line girl (Keeler) is thrust into the limelight. Last minute, frantic preparations for opening night with the new star precede the big premiere. Acclaimed Busby Berkeley production numbers and memorable tunes include: "Forty-Second Street," "Young and Healthy," "You're Getting To Be A Habit With Me" and "Shuffle Off To Buffalo." Academy Award Nominations: 2, including Best Picture, Best Sound Recording.
G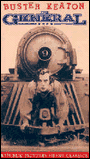 The General (1927)
Starring: Buster Keaton, Marion Mack
Director: Buster Keaton

Buster Keaton directs himself in this visually stunning 1926 silent comedy that many consider to be the amazing talent's finest work.
Not only is it considered Buster Keaton's greatest film, it is also widely recognized as one of the true masterpieces of American cinema. The visually-stunning silent film is undoubtedly one of the greatest comedies ever made, with non-stop physical comedy and sight gags, shot almost entirely aboard moving trains. Keaton created this great comedy out of an authentic episode of American history during the Civil War - a story about a famous locomotive, though in real-life the locomotive was stolen by the Confederates. The two things devoted Confederate engineer Johnny Gray (Keaton) loves most in the world are his Southern belle sweetheart (Mack) and his beloved locomotive named The General. When Northern spies steal the latter (with his kidnapped girlfriend on board), the intrepid Confederate heroically risks his life. He hijacks another locomotive, pursues them, and single-handedly takes on the entire Union army in order to rescue both of his loves. Filmed against a backdrop of magnificently photographed Civil War battle scenes, it also contains one of the great chases in movie history.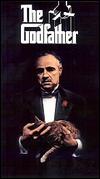 The Godfather (1972) (tie)
Starring: Marlon Brando, Al Pacino, James Caan, Robert Duvall, Diane Keaton
Director: Francis Ford Coppola

The first movie in Francis Ford Coppola's operatic Mafia series (starring Marlon Brando and Al Pacino) is a genre-defining classic.
The operatic, violent drama was based on Mario Puzo's novel of the same name. Here is a bravura, genre-defining, epic-length Mafia/gangster classic that evokes the mid and late 1940's period with powerful character development, lighting, costumes, and settings. The film follows the fortunes of the fictitious Corleones, a powerful Mafia family with its own family rituals and separate code of honor, revenge, justice, law and loyalty that transcends all other codes. When Godfather Don Corleone (Brando) is shot by rivals, his sons Sonny (Caan), Fredo (Cazale) and favorite young son Michael (Pacino) assume control, with Michael ascending to a prominent position of power. Flawless performances from an all-star cast, a dramatic plot, Nino Rota's unforgettable music, violent set-pieces, and the grotesque, severed horse-head scene. Academy Award Nominations: 10, including Best Director; 3 nominations for Best Supporting Actor (Caan, Duvall, Pacino), Best Sound, Best Original Score. Academy Awards: 3, including Best Picture, Best Actor--Marlon Brando, Best Adapted Screenplay.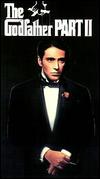 The Godfather, Part II (1974) (tie)
Starring: Al Pacino, Robert Duvall, Diane Keaton, John Cazale, Talia Shire, Michael V. Gazzo, Lee Strasberg, Robert De Niro
Director: Francis Ford Coppola

The sequel to Coppola's first Mafia film was also a Best Picture winner - and many thought a superior movie.
The continuing saga of a Mafia family and dynasty, one of the few sequels in film history that is considered superior to the original. This outstanding film continues the first film and retraces the Corleone Family's founding by the young Vito Corleone (De Niro), who immigrates to America from his native Sicily at the turn of the century and maneuvers his family to power in the ghetto of Little Italy. It also shows the maintenance of the family by young Michael (Pacino), Vito's son, as he ages and confronts a second generation of criminal and family affairs in Vegas, Cuba, and in a Senate hearing on organized crime. After eliminating all rivals and enemies, he is a brooding character, alienated from his wife (Keaton), and the murderer of own brother Fredo (Cazale). Academy Award Nominations: 11, including Best Actor--Al Pacino, Best Supporting Actor--Michael V. Gazzo, Best Supporting Actor--Lee Strasberg, Best Supporting Actress--Talia Shire. Academy Awards: 6, including Best Picture, Best Director, Best Adapted Screenplay, Best Supporting Actor--Robert De Niro, Best Original Dramatic Score.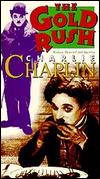 The Gold Rush (1925)
Starring: Charlie Chaplin, Georgia Hale
Director: Charlie Chaplin

Charlie Chaplin's most critically acclaimed movie, this melodramatic silent work reimagines the Little Tramp as a prospector in the 1800s.
A melodramatic, Chaplin silent classic with visual pathos and skillful slapstick - his most-critically acclaimed film. The Little Tramp character is a Lone Prospector in the Yukon during the gold rush days of the late 1800's. The poverty-stricken character is menaced by a bear, blizzard conditions, a starving cabinmate who imagines him as a giant chicken, and a teeter-tottering cabin on the edge of an abyss. He becomes infatuated with a dancehall girl (Hale) for the story's bittersweet humor and romantic tenderness. Contains the famous Thanksgiving meal of a boot and laces, and the celebrated "dancing dinner rolls" gag. Academy Award Nominations (in 1942): 2, including Best Sound Recording, Best Comedy Score.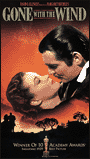 Gone With The Wind (1939)
Starring: Clark Gable, Vivien Leigh, Leslie Howard, Olivia de Havilland, Hattie McDaniel
Director: Victor Fleming

Victor Fleming's 1939 star-studded Civil War tour de force finds Clark Gable and Vivien Leigh entangled in a fiery love affair.
One of the best-loved, appealing films of all time and one of filmdom's greatest cinematic achievements and blockbusters, based on Margaret Mitchell's 1936 novel. The star-studded Civil War epic drama traces the South's tragic history during the war and the Reconstruction period. Set against this sweeping historical backdrop, the film follows a melodramatic romance between an indomitable, fiery Southern belle Scarlett O'Hara (Leigh) and a slyly-dashing war profiteer Rhett Butler (Gable), tangled by her emotional love affair with a married Southern gentleman (Wilkes). She struggles to protect her family and her beloved plantation, Tara, from the ravages of the Civil War. Academy Award Nominations: 13, including Best Actor--Clark Gable, Best Supporting Actress--Olivia de Havilland, Best Original Score (Max Steiner), Best Special Effects, Best Sound Recording. Academy Awards: 8, including Best Picture, Best Actress--Vivien Leigh, Best Supporting Actress--Hattie McDaniel, Best Director, Best Screenplay, Best Interior Decoration, Best Film Editing, Best Color Cinematography. Plus two Honorary Plaques, including a Special Award for "use of color."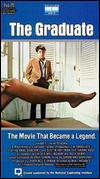 The Graduate (1967)
Starring: Dustin Hoffman, Anne Bancroft, Katharine Ross
Director: Mike Nichols

Mike Nichols's 1967 coming-of-age classic stars Anne Bancroft as the rapacious seductress of Dustin Hoffman's naive Ben Braddock.
Acclaimed, satirical coming-of-age romantic drama/comedy about a shy, naive college graduate confronting the real world. In the late '60s, a confused, vulnerable college graduate Benjamin Braddock (Hoffman) is uncertain about his future, reacting with passive rebellion. Without ambition or responsibility, he receives career advice from his suburban family's associates - "plastics" - a catchword for an entire generation, just days after receiving his diploma. While seduced by the wife of his father's business partner - a rapacious "Mrs. Robinson" (Bancroft), he falls in love with her engaged daughter (Ross). The influential and popular film, with a hit Simon and Garfunkel soundtrack, became an emotional touchstone for an entire generation. This film established Mike Nichols as a major director and was Hoffman's first major role. Buck Henry, appearing in the film as a hotel clerk, co-wrote the influential screenplay, based on the novel by Charles Webb. Academy Award Nominations: 7, including Best Picture, Best Actor--Dustin Hoffman, Best Actress--Anne Bancroft, Best Supporting Actress-Katharine Ross, Best Cinematography, Best Adapted Screenplay. Academy Awards: 1, Best Director.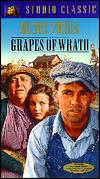 The Grapes of Wrath (1940)
Starring: Henry Fonda, Jane Darwell, John Carradine
Director: John Ford

John Ford's adaptation of the Steinbeck novel features one of Henry Fonda's greatest performances ever.
One of the all-time great, enduring American movies by John Ford, a classic adaptation of John Steinbeck's Pulitzer Prize-winning 1939 novel about Depression-era sharecropping farmers in California. The vibrant, evocative story, shot by cinematographer Gregg Toland like a unsentimental, stark series of Dorothea Lange Depression photographs, follows an Oklahoma family's escape from the barren Dustbowl to join the migration to California's fruit harvest - the believed 'Promised Land.' The compassionate, socially-conscious film contains Henry Fonda's greatest film role as wrongly-convicted ex-con Tom Joad, a poor yet dignified Okie farmer who refuses to be beaten down by misfortune, social injustice, oppression and capitalist greed. Darwell is moving as the loving backbone of the desperate Joad family. Academy Award Nominations: 7, including Best Picture, Best Actor--Henry Fonda, Best Screenplay. Academy Awards: 2, Best Supporting Actress--Jane Darwell, Best Director.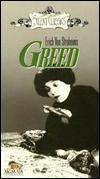 Greed (1924)
Starring: ZaSu Pitts, Gibson Gowland, Jean Hersholt
Director: Erich von Stroheim

Erich von Stroheim's notorious silent-era production charts one man's descent into insanity owing to his wife's unending greed.
One of the greatest, and infamous, epic films of the silent era - an adaptation of Frank Norris' novel McTeague, about a man driven insane by his debased wife's passionate obsession with money. Director Eric von Stroheim 's 8-hour film was edited to a two-hour running time by Irving Thalberg's MGM Studios. Greed examines the destructive psychological effects of wealth on a couple, a slow-witted San Francisco dentist (Gowland) and his miserly wife (Pitts) when she wins a lottery; as she gradually becomes more and more consumed with the piles of gold she now owns, the relationship falls violently apart... and comes to a stunningly shocking and ironic climax as the two former friends (Gowland and Hersholt) wrestle and die together in Death Valley.